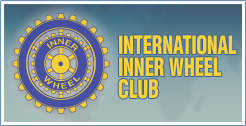 Inner Wheel concetrates upon friendship, personal service and international understanding. It is not what is termed "a money raising organisation" – each club selects its own charities and channels of service.

On of the great features of Inner Wheel is the opportunity given, to members the world over, to get to know one another, thus contributing to international friendship and understanding.

Members are able to communicate with one another through correspondence and visits. Presidental tours bring members closer together as they learn of Inner Wheel activities in vastly different territories, Clubs give service in their own community as well as looking beyond their national boundaries.

International Conventions are held at intervals – any member may attend and Rotarians are always welcome.

Marija Andova was president of IWC Skopje 2009-2010.


YESTERDAY
Inner Wheel began on the 10 January 1924 when Mrs Oliver Golding presided over a club formed of Rotarian wives. The roots from which International Inner Wheel has grown were established in 1934 when the Association of Inner Wheel Clubs in Great Britain and Ireland was formed.

It was realised that unity is strenght and members had the wisdom and foresight to form Clubs, later establishing Districts and then an Association.

In 1967 International Inner Wheel was formed which gave an opportunity for qualified members in any country to serve as Officers, e.g. President.
TODAY
International Inner Wheel links together members in different parts of the world including Europe, Africa, India, The Philippines, Australia, New Zeland, The United States of America, Canada and Baltic regions.

International Inner Wheel is available in approximately 100 geographical locations with 103,000 members.

The organisation is governed by an elected committee of four Officers and sixteen Board Directors.
TOMORROW
To ensure Inner Wheel will expand to the millenium, and beyond, new catogories of membership have been accepted whilst retaining the association with Rotary.